Established: 1944
Location: vicinity of Bolzano along the Via Resia
After July 1944, when the concentration camp at Fossoli (near Carpi, Modena) had to be evaucated as the front-line approached, deportations continued instead from a new camp at Gries, near Bolzano. It was initially built to hold 1,500 prisoners (there was a women's block and ten huts for men) in an area covering 2 hectares, but was repeatedly enlarged and reached a final capacity of around 4,000 prisoners. Bolzano could also rely on satellite camps at Bressanone, Merano, Sarentino, Campo Tures, Certosa di Val Senales, Colle Isarco, Moso in Val Passiria and Vipiteno.
The camp was controlled by the SS in Verona, and commanded by Lieutenant Titho and Marshal Haage, who had already occupied similar position at Fossoli. Under their command was a garrison comprised of Germans, South Tyroleans and Ukrainians (who, despite their youth, are sadly remembered for their brutality). Political prisoners, partisans (and their family members taken as hostages), Jews, Gypsies and Allied prisoners constitute the majority of prisoners incarcerated in Gries. Amongst the women, there were many anti-fascist activists, Jews, Gypsies, Slavs and the wives, sisters and daughters of persecuted anti-fascists. Last but not least, the camp also held the children of Jews, Romanies and Slavs who had already been deported by the Germans for racial motives.
Living conditions in the camp were appalling, and certainly not eased by the long, gruelling hours of forced labour, and numerous cases of torture and murder. The highest registration number issued to a camp prisoner was no.11,115 (see the ground-breaking research of Luciano Happacher), but many deportees – starting with Jewish prisoners – were not issued registration numbers at all. In his study of the camp published in June 2004 ("Uomini, donne e Bambini nel lager di Bolzano"), Dario Venegoni lists the name and details of 7,982 deportees, and suggests that the total number deported from the camp is roughly 9,500. Between the summer of 1944 and February 1945, numerous transports left Bolzano for Ravensbrück, Flossenbürg, Dachau, Auschwitz and Mauthausen, deporting thousands of prisoners who would never return. Based on work conducted by Italo Tibaldi, Dario Venegoni offers the names of 3,405 prisoners deported to camps in Germany, and 2,050 men, women and children who never returned from their journey.
An extremely active resistance movement was present in the camp, and was able to draw on a support structure outside it. Dozens of people, inside and outside the camp, became involved in extremely dangerous attempts to help the deportees and in particular those destined for the extermination camps. Amongst these activists, it is appropriate to record the names of Ferdinando Visco Gilardi and his wife Mariuccia, Ada Buffulini, Laura Conti, Franca Turra, Armando Sacchetta, Carlo Venegoni, Gigi Cinelli, and Renato Serra, and a group of deported priests, particularly Andrea Gaggero e Daniele Longhi. In this way, hundered of deportees were able to get news from their families, food, clothing and money, and a few were helped to successfuly avoid the fate assinged to them by the Nazis. However, many of those involved in these courageous attempts to assist the prisoners and create a support structure paid for their efforts with arrest, isolation and torture.
On 12 September 1944, 23 young Italians were arrested at 4 in the morning, taken to the Mignon Army barracks and shot with pistols. Others died at the hands of their "jailers", notable among them two brutal young Ukrainians. One of these, Michael "Mischa" Seifert, traced to Canada, was later sentenced to life imprisonment by the Military Tribunal in Verona for the crimes he committed in the camp. Dozens of people, political prisoners, Jews and Allied nationals, died at Gries.
On 29 and 30 April 1945, nearly all the remaining prisoners received passes signed by the Camp Commander while many were accompanied in groups a few kilometres from the city to be set free. Between the end of April and 1 May 1945, all the prisoners were freed and the camp closed down, while the SS sought to escape, but not before they had destroyed all the camp documentation and thus the evidence of their crimes.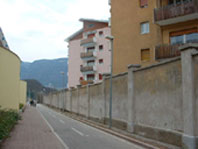 The camp area, today
Regrettably there are almost no remaining traces of the Bolzano camp today. The "Blocks" and "cells" were demolished, and in what was the camp, housing areas were built. The Province of Bolzano authorities have placed wide sections of the original camp outer walls under civil protection. In June 2004, the local authority in Bolzano placed six information panels in front of the camp's outer wall, in memory of the camp and its victims.
On one side of the wall is marked the old camp opening with a vehicle entrance, used by the deportees made to work as forced labour in workshops set up in the camp's immediate surroundings or in factories in the Bolzano area.
(Translation by Corey Dimarco)